by
Bassam Tawil
•
May 9th
If true, the reported concessions that Israel is being asked to make as part of the US administration's "deal of the century" will not be perceived by the Palestinians as a sign that Israel seeks peace. As the past has proven, they will be viewed by the Palestinians as a form of retreat and capitulation.

As far as the PA is concerned, the more territory it is handed by Israel the better. Territory in Jerusalem is especially welcome as it would give the Palestinian Authority a foothold in the city. A foothold, that is, for much, much more.

Make no mistake: the Palestinians will see their presence in the four neighborhoods as the first step towards the redivision of Jerusalem.

The Palestinians will say that these Israeli concessions are not enough. They will demand that Israel hand them control over all 28 Arab neighborhoods.

Worse, the Palestinians are likely to use the four neighborhoods as launching pads to carry out terror attacks against Israel to "liberate the rest of Jerusalem."

Why would anyone think that these neighborhoods will not fall into the hands of Hamas and Palestinian Islamic Jihad in the future?

Any Israeli concessions, particularly at this stage, will be interpreted by the Palestinians as a reward to Mahmoud Abbas and his crowd, who are not being required to give Israel anything in return.

Is it appropriate and helpful to reward Abbas and his associates at a time when he is refusing to stop payments to Palestinian terrorists and their families, and at a time when they are continuing to incite their people against the US administration, Ambassador Nikki Haley, and its Jewish advisors, Jason Greenblatt, Ambassador David Friedman and Jared Kushner?

Is this a man who deserves to be rewarded? Is this a man who deserves to be brought into Jerusalem? Abbas, and not Israel, ought to be asked for concessions. He should stop denying and distorting Jewish history, he should stop rewarding Jew-killers; he should stop preaching hate to his people. That is the best path to peace.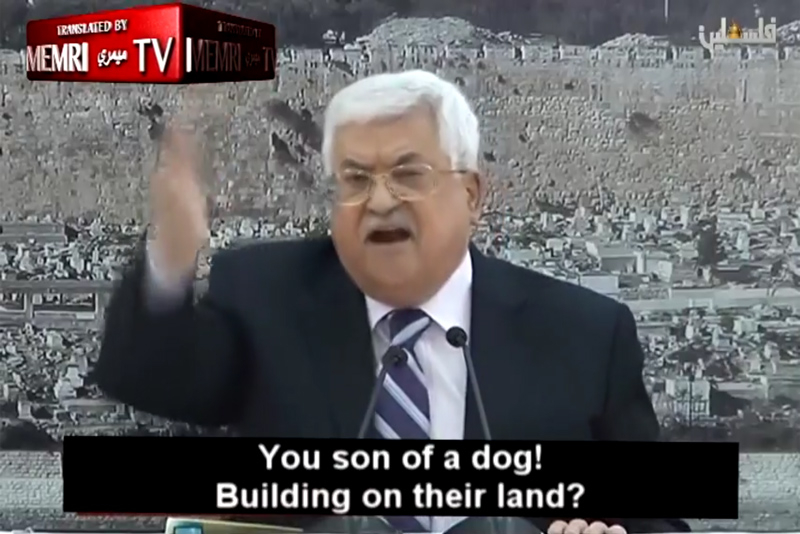 Palestinian Authority President Mahmoud Abbas called David Friedman, the US Ambassador to Israel, a "son of a dog" in a televised speech, on March 19, 2018. (Image source: MEMRI video screenshot)
For decades now, Palestinians have interpreted Israeli concessions and gestures as signs of weakness.
This fact is important to bear this in mind as the US administration prepares to launch its plan for peace in the Middle East, which President Donald Trump has referred to as the "deal of the century."
A report in the Israeli daily Ma'ariv on May 4th claimed that the "deal of the century" calls for placing four Arab neighborhoods in Jerusalem under the control of the Palestinian Authority. The four neighborhoods, according to the report, are Jabal Mukaber, Essawiyeh, Shu'fat and Abu Dis. Ma'arivwrote that the details of the US peace plan were presented to Defense Minister Avigdor Liberman during his visit to Washington last week: