This blog is designed to keep you up to date with all known Bible Prophecy meetings in Newport, the South East Wales area, and the West country of England. Plus a lot more Prophecy News from around the world!
Friday, 31 March 2017
Updates from
John McTernan's Insights
Copyright © 2017 Defend Proclaim the Faith, All rights reserved.
Thursday, 30 March 2017
New post on

Now The End Begins
Israeli Prime Minister Benjamin Netanyahu said he expected to sign off on Thursday on building the first new settlement in the occupied West Bank for two decades, even as he negotiates with Washington on a possible curb on settlement activity.
"Oh that the salvation of

Israel

were come out of Zion! When God bringeth back the captivity of his people, Jacob shall rejoice, and

Israel

shall be glad."
Psalm 53:6 (KJV)
EDITOR'S NOTE:

Why did God allow Donald Trump to become president of the strongest nation on earth? So that His will for His people the Jews, and for His land of Israel would be accomplished. Just wait until our president announces he is moving the US Embassy to Jerusalem.
Netanyahu was due to convene his security cabinet
later in the day to approve the new enclave, government officials said.
"I made a promise that we would establish a new settlement," Netanyahu told reporters. "We will keep it today. There are a few hours until then and you will get all the details."
He made the pledge in the run-up to the eviction in February of 40 families from the West Bank settlement of Amona. Israel's Supreme Court said the dwellings had to be razed because they were built illegally on privately owned Palestinian land.
Israel and the administration of U.S. President Donald Trump
are in discussions on limiting the construction of settlements, which are built on land Palestinians seek for a state.
Such settlements, in territory that Israel captured in the 1967 Middle East war, are deemed illegal by most of the world. Israel cites biblical, historical and political links to the land, as well as security interests, to defend its actions.
Establishing a new settlement could be a way for Netanyahu to appease far-right members of his coalition government who are likely to object to any concessions to U.S. demands for restraints on building.
Trump, who had been widely seen in Israel as sympathetic toward settlements, appeared to surprise Netanyahu during a White House visit last month when he urged him to "hold back on settlements for a little bit".
The two then agreed that their aides would try to work out a compromise on how much Israel can build and where.
Trump's Middle East envoy, Jason Greenblatt, this week wrapped up a second trip to the region aimed at reviving Middle East peace talks that collapsed in 2014.
A new settlement would be the first built in the West Bank since 1999. About 400,000 Israeli settlers live in the West Bank which is also home to 2.8 million Palestinians. Another 200,000 Israelis live in East Jerusalem.
Palestinians want the West Bank and East Jerusalem for their own state, along with the Gaza Strip.
source
by Bassam Tawil • March 29, 2017 at 5:00 am
They Palestinian Authority (PA) and Hamas wish to continue teaching children that the conflict with Israel is not over a two-state solution, but the "liberation of Palestine, from the river to the sea," which means the annihilation of Israel. The goal is for the students to believe that Israel is one big settlement that has no place in the Middle East.

Along with Hamas, Abbas and his PA plan to continue inculcating Palestinian children with the idea that they should look to terrorists who kill Jews as their role models. It might be illuminating if the conversation between Trump and Abbas were to be informed by these uncomfortable facts.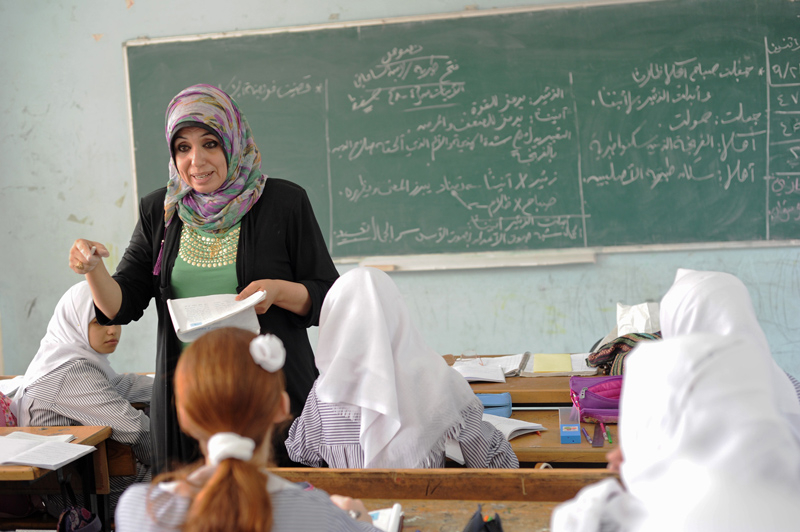 A girls' school run by the United Nations Relief and Works Agency for Palestinian Refugees. (Image source: UNRWA)
In an ironic turnaround, the United Nations Relief and Works Agency for Palestinian Refugees (UNRWA) is now the object of intimidation and threats made by many Palestinians.
UNRWA is reportedly planning to introduce some changes to the curriculum in its schools in the West Bank and Gaza Strip, and the Palestinians are rather unhappy about it. They claim that UNRWA has "succumbed" to Israeli pressure to make the changes.
The proposed changes are based on leaks to Palestinians and have not been confirmed by UNRWA. Palestinians claim that they learned about the plans to introduce the changes during meetings with senior UNRWA officials.
According to the Palestinians, the changes are intended to "eradicate" their "national identity" and "history" and distort their "struggle" against Israel.
by Giulio Meotti • March 29, 2017 at 4:00 am
"The problem in Europe is that there are far too many people in uniform, and too few of them able to go into action." — NATO Secretary General Lord Robertson.

"A majority of the German public opposes combat missions, and supports the Bundeswehr [German military] only as a quasi-humanitarian organization, a kind of Médecins Sans Frontières with guns". — Konstantin Richter, Politico.eu.

The relative abundance enjoyed by the Western post-war generations have created a kind of shame instead of pride.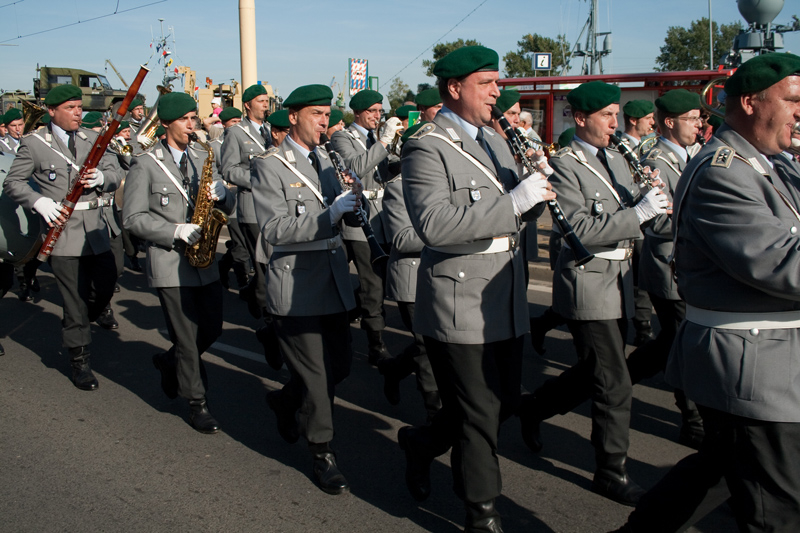 Soldiers of the German army on parade in 2009. (Image source: Włodi/Flickr)
It has been said that when German Chancellor Konrad Adenauer signed the reconstitution of the military in 1955, he proclaimed: "It is crazy, gentlemen, that I have to create a German army, it is just crazy".
Sixty years have passed, but that sentiment still seems very strong in Germany. A few days ago Sigmar Gabriel, the German foreign minister, said: "We have to be a bit careful here that we don't over-interpret the 2 percent target." Gabriel then became clearer: "Maintain perspective, stay focused on the target, but avoid being consumed by the bliss of a new rearmament spiral!"
A few days earlier, Germany had made an announcement: to raise the number of soldiers from 170,000 to 198,000 by 2024 -- a modest "rearmament".
"Blessed be Hashem out of Tzion, who dwelleth at Yerushalayim. Hallelujah." (Psalms 135:21)
Turkish President Erdogan is an evil person with evil intentions. He wants to bring back the Ottoman Empire and wage a terrible war against Christianity and the Church to try to bring the entire world to submission to Islam. But as evil is a perversion of good, one cannot outright say that everything which Erdogan does or says is inherently evil.
The way I look at the Counter-jihad movement is the same way I see the pro-life movement. For decades, the pro-life movement has said that they are fighting abortion. When the chance comes to treat abortion as actual murder, they oppose it.